Features & Benefits : These units are designed for air pressures up to 5 psig or low pressure air up to 600°F. The slides on all size blast gates are stainless steel. Slides are swivel mounted on shafts a tamper-proof assembly. Shaft can be rotated without damaging the gate. The slide is precision mounted between accurately machined flanges for smooth and easy operation. Stem packing gland is provided for "leak-resistant" construction.

All gates are equipped with an adjustable thumb screw lock to prevent movement from vibration. They are also available with an optional minimum stop.


Stainless steel gates are standard for all sizes
Swivel mounted gate and shaft assembly
Thumb screw shaft locks
Free floating gate will not bind
Cast iron construction
Available with minimum stop arrangement

Specifications :
Size : 1" to 6"

Applications :
Low Pressure Air Control, Viewing Ports with Peep sights, Fixed By-Pass Orifices, Gravity Fed Feedstock Control Fertilizer Distribution, Granular Glaze Distribution and Manual Stack Pressure Control etc.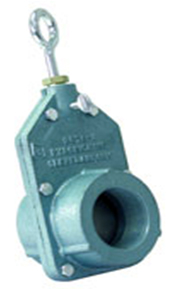 ---
for more details visit : www.selas.com