Features & Benefits :
Skid mounted Pre-piped & Pre-tested Assembly.
Seamless Interconnecting Piping for GVT.
Mechanical Pressure Relief and Solenoid Vent Valve are provided as standard.
Gas and Air Train can be mounted on single skid, as per customer requirement.
Pneumatic Leak Test for each GVT is done before dispatch.
Components used are of reputed make conforming to highest quality and safety standards.

Specifications :
Application : Supply of clean & regulated fuel safely to single or Multiple Burner(s) for all types of furnaces, ovens, incinerators, boilers, kilns & other Thermal Process Equipments.
Size : DN15 to DN300 *
Fluid : LPG, Natural Gas, Nitrogen, HNX, Producer Gas, Blast Furnace Gas, Coke Oven Gas and Mixed Gas etc.,
Inlet Pressure Range : 0.5bar to 4bar *
Outlet Pressure Range : 50mbar to 150mbar *
Operating Voltage for Solenoid Valves : 110VAC/230VAC/24VDC
Design Standard : Confirming to BS/IS/EN/NFPA/IRI/FM or as per customer requirement
End Connection : Threaded or Flanged
Higher Ranges, Sizes & Other Types are available on request.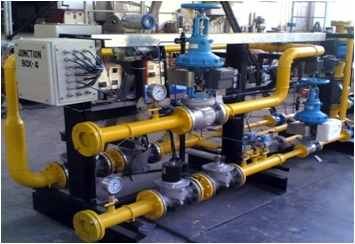 ---