Features & Benefits : Throttle orifice valve are designed to provide accurate & precise flow control. The valve has a micrometer type screw thread adjusting stem which allows excellent adjustment possibilities even at low flows. These valves can be accurately adjusted with a screwdriver. A seal cap protects the adjustment preventing leakage. The throttle orifice valves are suitable for Max. operating pressure of 4 bar and Max. operating temperature: -150°C.

Specifications :
Fuel : Natural Gas, LPG, Air, Nitrogen, HNx and any Clean gas
Size : 3/8" to 1"
Make : Pyronics / GTS

Applications :
For Manual adjustment valve even at low flows. Non sealing valve for fine tuning and flow control of air and gas for burners.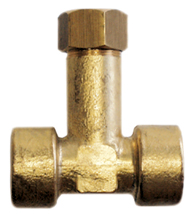 ---